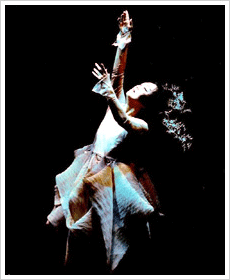 '늘휘'는 순수 우리말로 회오리의 절정을 뜻한다.

이는 한국춤의 절정을 내딛는 춤메소드의 개발과 세계적인 한국무용작품을 지향하는 늘휘무용단의 열정과 노력을 의미하기도 한다.

1996년 김명숙(이화여자대학교 명예교수)을 주축으로 창단한 늘휘무용단은 다양한 예술장르 간 크로스오버, 즉 퓨전예술(fusion art)의 전형을 제시하면서 다양한 시도를 하고 있는 주목받는 한국무용 단체이다. 특히 예술감독 김명숙의 서정적이고 자연주의적 작품성향은 무용계뿐만 아니라 문학, 미술, 설치, 영상 분야와 접목되어 관객에게 시청각적인 즐거움과 감동을 선사하고 있다. 늘휘 무용단은 날로 높아지는 관객들의 예술적 욕구와 대중성을 모두 충족하고자 타 예술 분야와의 적극적인 접목을 통해 표현방식의 확장과 무용영역의 확대를 지향하고 있다.

주요작품으로는 '색동너머(1996)', '신공무도하가(1998)', '샘(2000)', '움직이는산(2001)', '나비연가(2003)', '알.수.없.어.요(2005)', '想·想(2006)', '헌무다례(2008)', 'Taintless Spring(2009)' '想·想Ⅱ(2009)' '하늘의 미소(2011)' '想·想Ⅲ(2012)' '미궁(2013)' '나·飛(2014)' '법.계(2015)' '시간의 공간(2016)' '모래그림(2016)' 등 30여 편의 안무작이 있으며 다양한 움직임과 크로스오버의 시도로 무용계뿐 아니라 문화예술계에도 신선한 충격을 주었다. 한국춤의 고요와 역동, 침잠과 격정을 자유롭게 직조하여 짜내는 늘휘무용단의 움직임은 한국창작무용계에 새로운 방향을 제시하며 세계무대진출로의 가능성을 펼쳐보이고 있다.

늘휘무용단은 1999년 뉴욕 아시아 소사이어티 초청 공연, 필라델피아 무용연맹의 초청 공연, 2002년 파리 가나보브르 초청공연, 2005년 뉴욕대학교 초청공연, 2007년 네덜란드 헤이그 초청공연 등에서 한국예술의 진미를 선사했다는 극찬을 받은 바 있다. 특히 2009년에는 한국무용단체로는 유일하게 뉴욕 아시아 소싸이어티로부터 1999년에 이어 10년 만에 두 번째 초청공연을 갖게 되었으며 2012년에는 프랑스 파리 유네스코의 초청공연으로 한국춤의 정수를 선보인 바 있다.

또한 2002년부터 시작된 '공간, 그 무한의 가능성'은 미술, 음악, 설치, 영상 등 젊은 아티스트들의 협업의 장이 되었다. 특히 세계적인 설치작가 최우람, 선우정아 등과의 협업을 통해 이 시대에 맞는 창의적 작품들을 선보이는 동시에 미래를 선도해갈 젊은 안무가들을 배출하고 있다.

꾸준한 작품 활동을 통해 격조 있는 전통춤 무대를 마련하고, 한국적인 정서를 토대로 완성도 높은 창작품을 선보이고 있는 늘휘무용단은 대내외적으로 한국의 대표적인 한국 창작무용 단체로서 인정받고 있다.


Nulhui Dance Company
'Nulhui' in pure Korean term means the zenith of a whirlwind.

This is significant for the passion and effort of Myung Sook Kim's Nulhui members simultaneously as developing dance methods stepping forward to strive for the zenith in Korean Dance while aiming for international recognition.

Honor Professor Myung Sook Kim, Department of Dance, Ewha Womans University, being the main core of the group, founded the Nulhui Dance Company in 1996. This dance company, is well known for attempting different approaches by crossing over art genres and presenting the main model in fusion art. Professor and Art Director Myung Sook Kim integrates lyrical and naturalistic dance forms with other art genres such as literature, visual art, installation, film to evoke and give pleasure to the audience in terms of sight and sound. The Nulhui Dance Company attempts to fulfill the ascending artistic standards of the general public and at the same time extends its boundaries by introducing new methods in dance such as integrating it with other forms of art.

Nulhui Dance Company's main productions include over 30 choreographic works such as Sackdongnomo (1996), Shingongmudohaga (1998), Fountain (2000), A Moving Mountain (2001), A Love Song of a Butterfly (2003), I Do Not Know (2005), Sang·Sang (2006), Honmoodarye (2008), The Smile of the Sky (2011), and Sang·SangⅢ (2012), Maze (2013), I·Fly (2014), The realm of Buddhism (2015), Space of Time (2016), Sand·Picture (2016).

Such performances caused a new sensation. Nulhui Dance Company excels in the world of Korean creative dance by continuously introducing new directions by working with the serene and dynamic qualities of Korean dance, simultaneously as emphasizing subtlety and passion. These traits prepare Nulhui most evidently to an international audience.

Nulhui Dance Company's international performances include the Asia Society's performance in New York, and the Philadelphia Dance Association in 1999, in Paris, France invited by Galerie Gana-Beaubourg in 2002, the New York University invited performance in 2005, 100th Anniversary of the Patriotic Martyrdom of Lee Jun, the Netherlands, the Hague in 2007. All these performances received outstanding remarks praised for presenting inherent Korean qualities in dance. Notably, in 2009 the company was invited for a performance at the Asia Society in New York 10 years after its first performance in 1999, making it the only Korean dance company to be invited twice. In 2012, the company was invited by UNESCO in Paris to represent the essence of Korean dance.

Also, 'Space, The Infinite Possibility', which began from the year of 2002, became the fields of cooperation of young artists of fine arts, music, installation, image. Especially, it has shown creative works through the cooperation with world famous installation artist, Wooram Choi and Jeonga SeonWoo, and has made young choreographers leading the future.

Nulhui Dance Company has made graceful stages through steady works and presented creative works to almost perfection, so that the company gained much recognition as a Korean representative creative dance company domestically and globally.